FOLLOW US: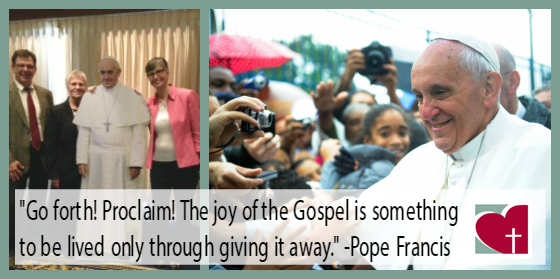 eNews | October 2015
Sr. Marjorie in DC, with the Holy See
Dear Friends of Catholic Charities,
Last month, I was fortunate to have the opportunity to see Pope Francis during his first papal visit the the United States. In Washington, DC, I attended the gathering on the White House south lawn and the Canonization of Blessed Junipero Serra at Our National Basilica. At the closest, I was ten rows away from the pope, thanks to years of crowd maneuvering experience during Mardi Gras parades.
However, just being in his presence was a gift; the words of Pope Francis touched me as he spoke of how to experience the joy of the Gospel. During his homily, Pope Francis repeatedly challenged us to 'go forward' in the spirit of the Gospel. I reflected upon the work of Catholic Charities, and how we strive to fulfill this invitation. All that Pope Francis expressed affirmed our works and services in our Catholic Charities program. Read Sr. Marjorie's full letter.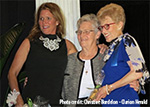 St. Elizabeth's Guild Auction and Luncheon
The ladies of St. Elizabeth's Guild know how to have a good time for a good cause! At their annual luncheon and auction on September 25th, the Guild honored twelve volunteer activists for their outstanding service to the community. Meanwhile, luncheon attendees bid over a varied spread of auction items. The proceeds from the auction will support three of our program serving children: St. John the Baptist Head Start, Padua House and Independent Livings Skills Program. Many thanks to the Guild members for their faithful support and congratulations to their outstanding activists! The volunteer activists recognized this year were Michael Rodrigue, Linda Vinasanau, Mary Jane Becker, Irene Klinger, Kathleen Mix Diamond, Elizabeth Brown Dowling, Carolyn Escher, David Gallo, Patricia Golemi, Sandra Thompson Herman, Betsy Becker Laborde and Thomas Morstead.


Health Guardians Receive Innovation Award
The Patient Navigators with our Health Guardians program are not just typical case managers. They provide holistic support to ensure all care needs are met and to remove all barriers to receiving effective healthcare. This forward thinking method directly addresses high emergency room rates and hospital re-admission rates among the poor and vulnerable in our community. This model also earned our Health Guardians program theInnovation in Case Management Award last month at the National Case Management Conference. Read more here.


Send Us Your Prayer Requests for All Souls Day


On a day to commemorate the faithful departed, we will join with our brothers and sisters in prayer for All Souls' Day this November 2nd. We invite you to share with us your intentions or the names of your loved ones for the Catholic Charities family to remember this All Souls' Day. We will be adding your requests to our Prayer Circle and Prayer Book. Click here to share your intentions.

#iGiveCatholic on Giving Tuesday


Mark your calendars for the first 24-hour online giving day for Catholics on December 1st! For Giving Tuesday this year, The Catholic Foundation is hosting a day to connect supporters with Catholic organizations, including Catholic Charities, called #iGiveCatholic. We invite you to participate by spreading the word through social media about why you support the works of Catholic Charities using with the hashtag #iGiveCatholic. Then, on December 1st, show your support to serve those in need by going online to donate at https://igivecatholic.org. We look forward to celebrating our faith and generosity with you on this inaugural day!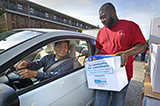 Thank you to the 408 Individuals who took the Food for Families/Food for Seniors Quiz
A generous anonymous donor agreed to donate $10 to the program for each quiz completed, which earned $4,080 to feed those in need! To learn more about our program, to see who qualifies or to refer a senior in need, please visit our website here.