Sowing the Seed of Hope: Catholic Charities 2015 Annual Report

76,305. That's the number of children, women and men who we served last year by providing housing, food, education, counseling, case management and many more of our life-giving services. Today, we're releasing our annual report for Fiscal Year 2015, and we invite you to read through the reflections and stories. In our report, you'll learn how Catholic Charities provides housing to a family, strengthens the faith of another and gives hope to children for a brighter future. You'll also hear why our supporters, like you, stand with us in serving those in need. Thank you for being our partner in ministry and sowing the seeds of hope. Download the complete 2015 Annual report here.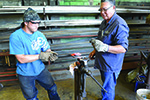 Catholic Campaign for Human Development Second Collection

On November 21 and 22, the second collection in all Masses in the Archdiocese of New Orleans will support the Catholic Campaign for Human Development (CCHD) which works to end poverty in our community. All funds raised these days will support four local projects: the Northshore Housing Initiative, Families and Friends of Louisiana's Incarcerated Children, The MICAH Project and the New Orleans Master Crafts Guild. See the Master Crafts Guild's apprenticeship program in action. This year will also mark the first time the CCHD directly addresses poverty on the Northshore through the creation of affordable workforce housing. For more information on the CCHD, please call our Office of Justice and Peace at 504-874-7829 or visit the CCHD website.
A Statement from the Archdiocese of New Orleans and Catholic Charities Archdiocese of New Orleans: Syrian Refugee Resettlement

Catholic Charities Immigration and Refugee Services has a long history of resettling families fleeing violence in their home countries. Thirty years ago the late Archbishop Philip Hannan worked to resettle Vietnamese families here, and today the Vietnamese community is a valuable part of our diverse New Orleans culture. Today, we face new challenges as we answer the Gospel call to welcome the stranger and care for the vulnerable. Continue reading >>