FOLLOW US: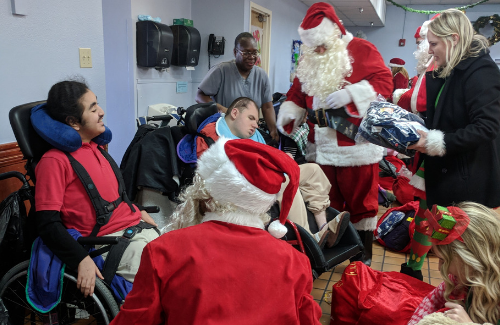 eNews | December 2018
Happy Santas Deliver Holiday Cheer to Padua

On Monday, December 10th, Santa traded in his sleigh for a Drago's firetruck to deliver sacks of gifts to Padua House. Sponsored by the Louisiana Hospitality Foundation and escorted by the Plaquemines Parish Sheriff's deputies, the largest group of "Santas" to date not only brought holiday cheer to the residents and clients with profound disabilities and intellectual challenges, but also pressure washed, painted, and landscaped Padua House in addition to donating new kitchen appliances.

Learn more about Padua's commitment to the individualized needs of their clients here.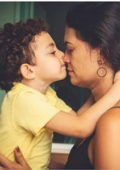 Bezos Day One Fund Grant


Catholic Charities Archdiocese of New Orleans was recently selected to receive a $5 million grant from the Day 1 Families Fund from Amazon's Jeff and McKenzie Bezos. With this funding, Catholic Charities will holistically assist families fighting homelessness with financial assistance and long-term wraparound services, including immediate case management, emergency housing, workforce development, financial literacy, counseling, and more. This will be an expansion of our current homeless services over the course of four years.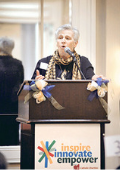 Convocation 2018


In October, over 300 Catholic Charities Archdiocese of New Orleans employees gathered for a staff convocation day led by Sr. Marjorie Hebert, Executive Director. Based off of the 2018-2022 Strategic Plan, staff members were reminded of the importance of their work - to INSPIRE, INNOVATE, and EMPOWER - by Chef Leah Chase of Dooky Chase Restuarant, Bishop Fernand Cheri, and Sr. Donna Markham of Catholic Charities USA. Several CCANO employees spoke about their experiences and what keeps them motivated.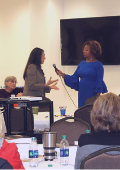 Symposium for Systemic Change


Tom Constanza, CCANO Division Director, opened this year's Symposium for Systemic Change focusing on justice reinvestment by reminding attendees that the possibility for mercy is as boundless as the need for mercy. The symposium's goal was to assemble Louisiana faith groups in order to educate citizens about critical justice issues, develop a statewide intergenerational network of servant leaders, and become a voice and witness for merciful public policies.
Special guests included: Archbishop Gregory Aymond, Archdiocese of New Orleans; Deacon Rudy Rayfield, Executive Director of the St. Vincent de Paul Society; Robert Tasman, Executive Director of the Louisiana Conference of Catholic Bishops; Ronnie Moore, Program Director of Catholic Charities' Cornerstone Builders ministry; Sarah Omojola, The Welcoming Project; Emma Tacke, Catholic Mobilizing Network; Andrea Armstrong, Loyola University College of Law; Rhett Covington, LA Department of Public Safety and Corrections; Nick Albares, Policy Advisor to Governor Jon Bel Edwards; Dr. Nia Haydel, Dillard University; Syrita Steib-Martin, Operation Restoration; and Andre Collins Gaudin Jr., Assisant District Attorney, Orleans Parish.


'Tis the season for giving! This holiday, impact the lives of over 77,000 Louisianians through the Archbishop Hannan Community Appeal (AHCA) campaign. Now in its 53rd year, the AHCA mobilizes the community to raise much-needed unrestricted funds.
The AHCA underwrites over 30 life-giving programs of Catholic Charities, which allows us to respond quickly, effectively, and compassionately in times of crisis and disaster, as well as fill gaps where economic issues force governments to cut support for social service programs.

This year, the 2018 AHCA campaign aims to raise $1.85M to serve the men, women, children and families in need in our community, and we're almost there. Make someone's holiday bright by donating today!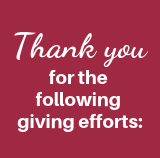 Thanksgiving Baskets: Through the generosity of our donors and volunteers, we were able to distribute a record-breaking 200 food baskets to families from 22 of our programs this Thanksgiving.
St. Elizabeth's Guild:
Thanks to St. Elizabeth's Guild for supporting CCANO at their 48th annual Volunteer Activist Awards Luncheon recently. Their efforts have assisted children served through our programs since the 1950s.
Christmas Donations:
This holiday season will be filled with joy and blessings for over 1,200 of our clients and families adopted by generous donors.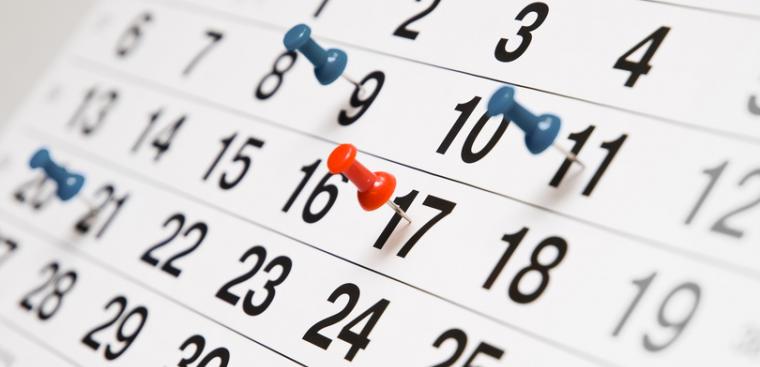 Mark Your Calendar!




January 14 - ESL Morning Classes Start, 9AM, (Orleans) 4540 S. Carrollton Ave

January 14 - Citizenship Classes Start, 6PM, 2505 Maine Ave

January 22 - ESL Evening Classes Start, 6PM, (Orleans 1229 Broadway St, Rm 418) & (Jefferson 2505 Maine Ave)

January 23 - Volunteer Information Session, 4PM, 1000 Howard Ave


September 28 - Isaiah 43 Peacebuilders Brunch,

10AM, Audubon Tea Room