ESL Program Reaches 1000th Client!

We are excited to announce that Immigration and Refugee Services reached a huge milestone recently. As of July 2019, 1,000 individuals have gained knowledge and a means to connect with others through our English as a Second Language program. This rigorous program has day and night classes in both Orleans and Jefferson Parishes for eager students to learn from trained teachers and volunteer tutors. Read one of our student's own words:

"I appreciate all the people of this institution for helping other people to improve speaking English, in special to my teachers Richard and Rosemary for your time and patience. Thank you. [This] is one of the things that I admire most in this country that helps other people. I learned a lot with you guys, and I wish everyone to achieve their dreams and goals. Also to all the volunteers. [It is] never too late to go for your dreams. Thanks, Cory"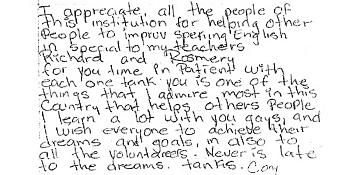 Office of Justice & Peace Visits Ethiopia

Kevin Fitzpatrick, Office of Justice and Peace Program Director, recently visited Ethiopia to view Catholic Relief Services (CRS)' collaborative work that uplifts local communities. Kevin met with a farmer coop of about 95 families that had independently organized for symbiotic crop development, a group of women implementing the Saving Investment Lending Coop (SILC) system, and the people of the village of Dogsoto who had recently moved back to the area after internal displacement from regional fighting.

Read the full article here.


Health Guardians Program Transforms Lives

Our Health Guardians program has collaborated with HealthCare for the Homeless to enroll clients who are struggling to stop using substances like cigarettes, alcohol, heroin and/or other opioids in the Medication Assisted Treatment (MAT) program. The results have been life-altering with most clients reporting little to no cravings for opioids. Our staff provide therapeutic services, substance abuse counseling, and referrals to address any obstacles our clients may be experiencing.

Read the full article here.