Responding to the Hard Rock Hotel Collapse: A Message from Sister Marjorie Hebert

CCANO case managers, social workers, and administrative staff were at the Hard Rock Hotel collapse site from the beginning. We served the displaced residents of the LaSalle Apartments, organized memorials and travel arrangements, provided counseling to families and some of the construction crew, and worked closed with the city and family members of the three victims. I have prayed for wisdom for those making decisions, for comfort for the loved ones suffering loss, and for patience and strength for many business owners affected. Catholic Charities is committed to putting faith in action to offer hope during our city's time of need.

Read her full statement here.



Honoring Veterans at Greenwalt Adult Day Health Care Center

"Too blessed to be stressed" is Mr. Butler's motto. Each time he walks into Greenwalt Adult Day Health Center, he quotes this as he greets staff and other participants. Born in 1939, Mr. William Durant Butler joined the army at the age of 17. He completed six months of basic training at Fort Hood in Texas and served for three years in Frankfort, Germany. During his time there, he learned to speak the language and enjoys practicing his German with staff and fellow Greenwalt participants. We thank Mr. Butler for his service and for sharing kindness with everyone he meets!

Read more here.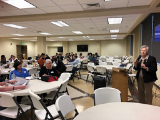 A Vision of Justice

At Cornerstone Builders' 2019 Symposium for Systemic Change, Sr. Marjorie, Syrita Steib, and Dolfinette Martin all spoke about the bleak conditions incarcerated women endure, emphasizing the importance of addressing women's needs, especially since the only women's prison was flooded in 2016. Other experts spoke about the results of the 2017 Justice Reinvestment Initnative on reduced prison population, and another speaker addressed the magnitude of each individual vote and how organized citizens can impact an election.

Read more here.