20/20 Vision with Counseling Solutions


At this time of year, many people choose to make resolutions, but how many people are still sticking to these habits later in the year? Clinical Director of Counseling Solutions, Dr. Mark Taliancich, has a few tips to maintain your goals for 2020.
Something > nothing. When we make lofty goals, we often set ourselves up to fail by expecting to achieve it all in an unrealistic amount of time. Small steps over a long period of time add up to a bigger reward than quitting because you couldn't see immediate results.
Accept slipups with self-compassion. Expect to slip up, but don't remain in self-judgment and guilt. Allowing yourself to make mistakes actually strengthens your ability to try new or difficult things.
Get support. Encouragement from friends, family, or a therapist is vital until new patterns stick. Look into local Meet Ups with similarly minded people or share your goal with a loved one so they can become your cheering section.
Most importantly, remember it's never too late to get back on track or try something new.

Read the full article for all of Dr. Taliancich's insights.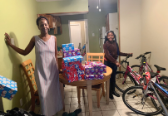 A Happy Holiday for Health Guardians Client


Trena was initially referred to Health Guardians because of difficulty managing her type II diabetes, which resulted with the worsening of her glaucoma. These medical conditions were leading her to make frequent visits to the emergency room. When we first met, her glaucoma had progressed to the extent that she was considered legally blind.

After receiving services for the past six months, Trena is able to consistently attend her appointments on her own and advocate for herself and her children."We're proud that she better understands her disability and how to care for her conditions. Her relationship with her relatives has improved, and she is more confident in her ability to take care of herself," says Khayti Patel, Patient Navigator. Read the full story.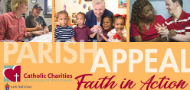 Second Collection to Benefit CCANO


Put your faith in action this year during your church's second collection benefiting Catholic Charities the weekend of February 8 & 9. Your support in this collection provides crucial funds that enable us to be a source of hope and help for over 70,000 individuals and families experiencing homelessness, hunger, developmental delays, and more. Learn more about the collection.