January 2021 E-News
SPIRIT OF HOPE REFLECTS ON 2020
The mission of Catholic Charities' Spirit of Hope Disaster Services is to give hope through concrete corporal and spiritual works of mercy to those who become vulnerable after disasters.

These works of mercy are based on bible verse, Matthew 25 where Jesus's words are to feed the hungry, welcome the stranger and clothe the vulnerable. We are directed by Archbishop Aymond to deliver services with compassion and competence and that Catholic Charities will be an early responder and a forever responder.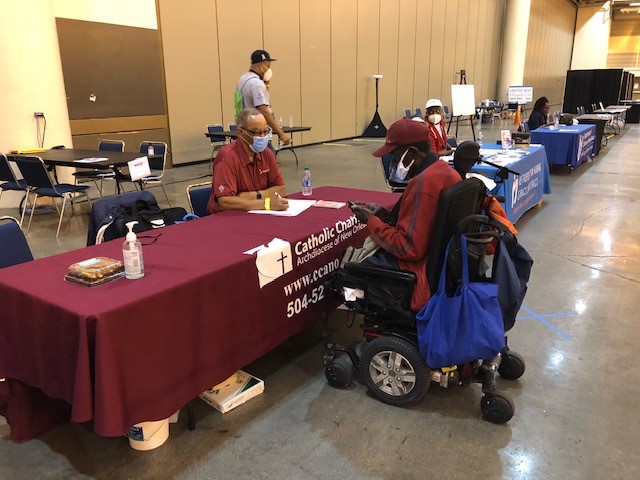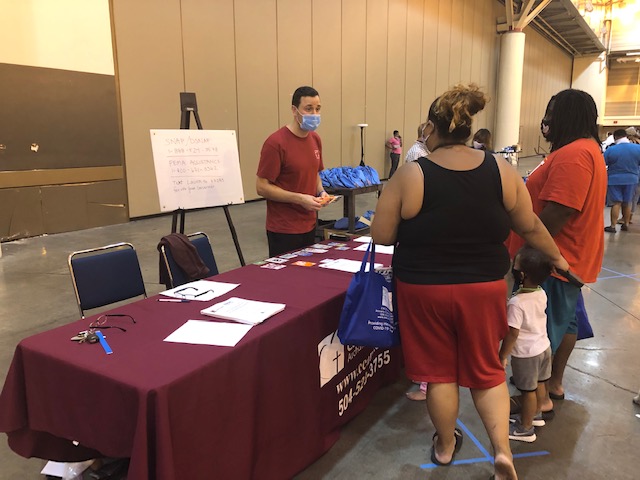 SAVE THE DATE:
February 5
Food for Seniors food box Distribution at Zephyr Field from 7AM - Noon. For more information,visit here.

February 23
Coffee and Conversations with Sister Marjorie will be held from 2-3PM. For more information,visit here.

Archbishop Hannan Community Appeal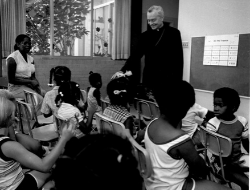 AHCA Campagn:
Gifts to the Archbiship Hannan Community Appeal (AHCA) raise crucial unrestricted funds that allow Catholic Charities to respond swiftly, effectively and compassionately in times of crisis or disaster.


Your donation means supporting a local charity that best understands local needs. We serve the 8 civil parishes that make up the Archdiocese of New Orleans: Orleans, Jefferson, St. Tammany, St. Bernard, Plaquemines, St. Charles, St. John, and Washington parishes.

THANK YOU to everyone who has made a gift to our 2020 Archbishop Hannan Community Appeal (AHCA) Campaign! Gifts to the AHCA raise crucial undesignated funds which support ALL Catholic Charities programs.

Help us in providing unrestricted funds that allow us to help our neighbors in need!



VOLUNTEER OPPORTUNITIES: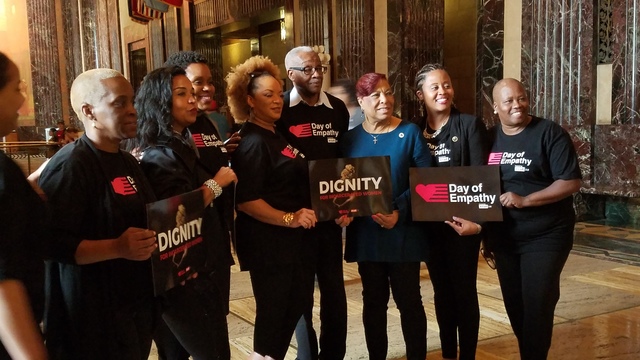 CORNERSTONE:
Catholic Charities' Cornerstone Program is looking for mentor volunteers (especially male mentors).
If you're interested in being a mentor or for more information, contact Kristina Gibson.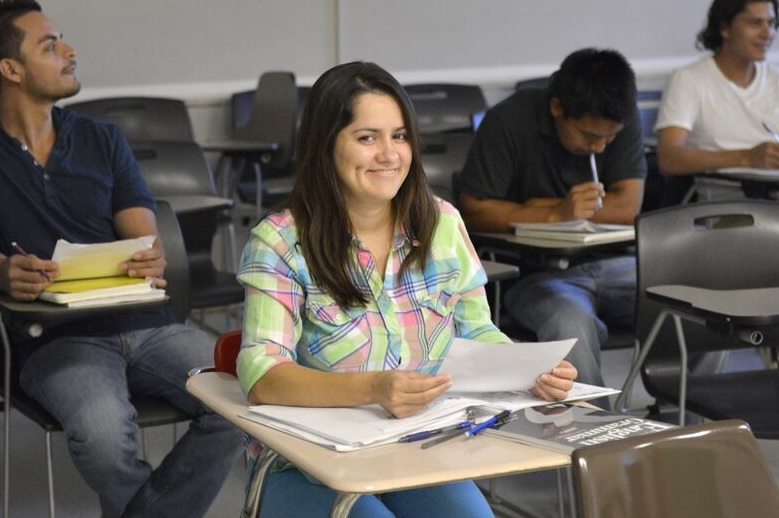 ESL and FAMILY LITERACY:
Trainings to volunteer for ESL (English as a Second Language) and Family Literacy will be held virtually in February.

All volunteers must attend the Policies and Procedures (P&P) training first.

Policies and Procedures
P&P - February 4 at 6pm

ESL - February 8 at 6pm
Family Literacy - February 10 at 6pm

P&P - February 18 at 6pm

Family Literacy - February 22 at 6pm


ESL - February 25 at 5pm



To sign up for ESL and Family Literacy trainings, contact Sami Barefield.


Volunteer by emailing Shannon Murphy and for more information,visit here.
PARISH APPEAL SECOND COLLECTION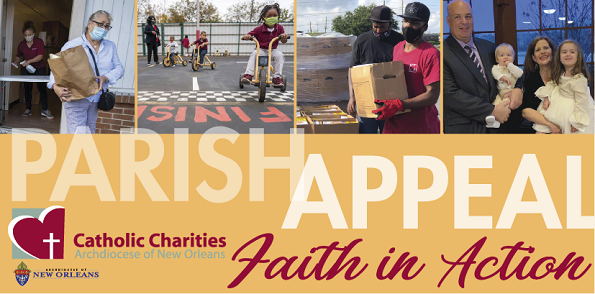 Catholic Charities' Parish Appeal Second Collection will take place in Roman Catholic Archdiocese of New Orleans' churches February 27-28, 2021.

This year, due to Coronavirus restrictions, we will be taking donations both during in-person Masses and online. For more information and to donate, visit here.

This collection provides crucial unrestricted funds that enable CCANO to respond quickly to the needs of our community.

COUNSELING SOLUTIONS TIPS: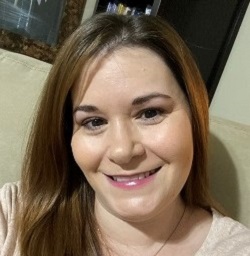 Counseling Solutions Program Director, Lisa Surrency, spoke about handling anxiety and stress due to COVID-19 and dealing with holiday blues.


Why is Self Care so important in dealing with stress and anxiety associated with COVID-19?

"Self care is especially important because

:
Produces positive feelings

Improves confidence

Boosts self esteem

Boosts immune system

Slowing down make you more productive

Improves you self compassion

You have more to give others"

WELCOME TO LORENA WEVER!
Welcome to our new Food Pantry Coordinator, Lorena Wever! For her new position, Lorena answered some questions about her new role and what she has seen at the Food Pantry as the need for food continues to grow due to COVID-19.

What has it meant to join Catholic Charities and the Food Pantry?

"Working with Catholic Charities is a way to put my faith and experience into practice by serving our clients. There are so many people in this community who need help. It's rewarding to know that you can welcome them in, and you know that they are going to get the help they need."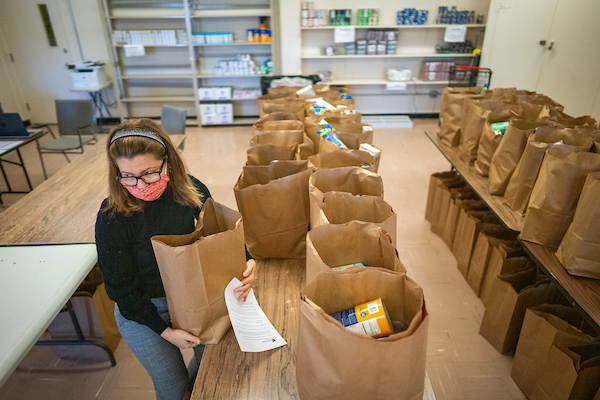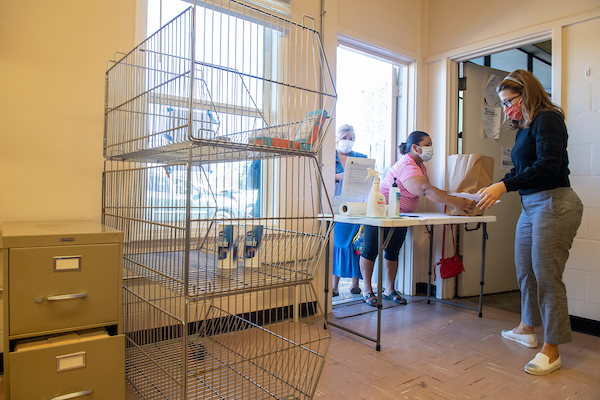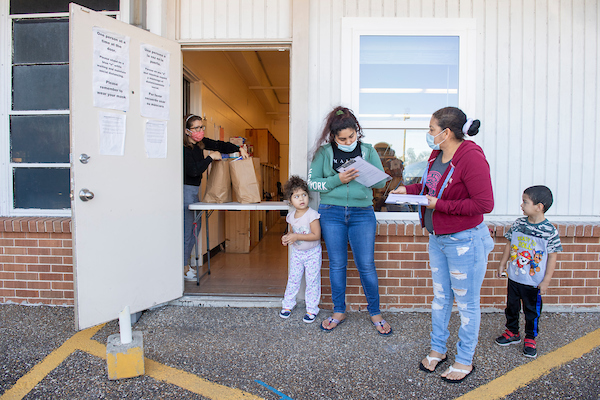 Lorena Wever spoke about the increased need she has seen at the Food Pantry, specifically during the holiday season.


What have you seen at the Food Pantry over the holiday season? An increased need?

"During this part of the year, CCANO-Food Pantry is seeing an increase in the number of people needing help. Holiday seasons often find our thoughts turning to those in need. Hunger is one of the most basic of needs we all must satisfy. Families and individuals living in hunger are looking for food during this 2020 season more than ever."



NEW PROGRAM UPDATES: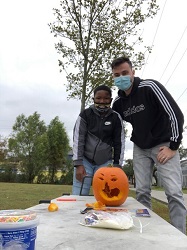 Cornerstone Kids Mentors Continue Important Work
The past several months have been challenging for Cornerstone Kids, as we have navigated through the COVID-19 pandemic.

Cornerstone Kids have turned to virtual mentoring as a new way to provide support and positive role models to youth.

In August we virtually matched T'Darryl Smith with his mentor, Alan Boiangu. T'Darryl was very excited even though he would not be able to meet his mentor in-person for a while due to our COVID guidelines. They embarked on their mentoring relationship with the help of phone calls and virtual meetings until they could get together. In October, Cornerstone Kids provided mentors and mentees with DIY Halloween activities including pumpkins and carving kits. T'Darryl was excited to see his mentor and carve a pumpkin for the first time.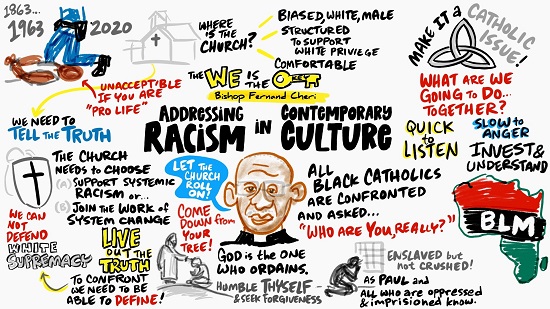 Symposium for Systemic Change was held January 15
Catholic Charities' Office of Justice and Peace along with the St. Vincent de Paul in the Archdiocese of New Orleans hosted the Annual Symposium for Systemic Change through the Hop In platform on January 15, 2021.

The symposium had people attending from locations as far-flung as the University of Dayton and Hartford, Connecticut. Bishop Fernand Cheri offered a powerful keynote on Racism within the Church emphasizing that concern for the lives of black people, such as George Floyd, among others, is also a "pro-life" issue. His keynote was a clarion call for the Church to address systemic racism.

DONATE TO AHCA

Donate to Archbishop Hannan Community Appeal (AHCA) and help Catholic Charities meet the needs of the community.