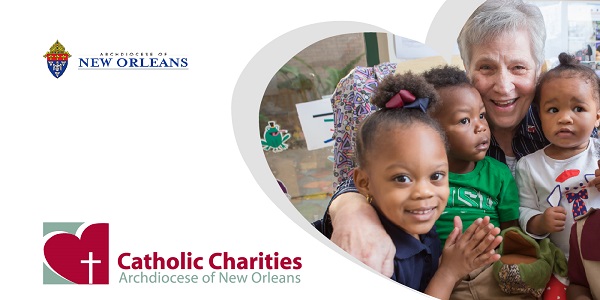 March 2021 E-News
Head Start Celebrates St. Patrick's Day!

Catholic Charities' Head Start Incarnate Word campus hosted St. Patrick's Day activities for students. Class rooms were decorated in green and students wore green attire. Each class created colored pudding and practiced counting with St. Patrick's themed cereal.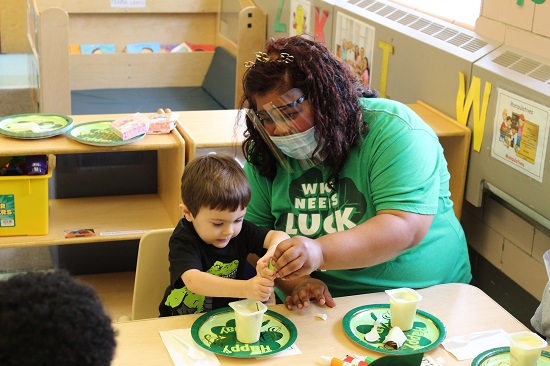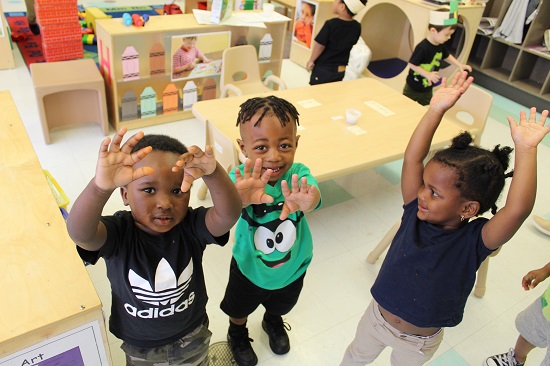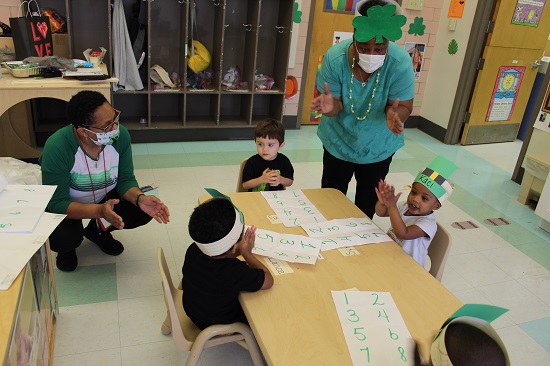 SAVE THE DATE:
April 2
Office closed in observance of Good Friday.
April 27
Coffee and Conversation with Sister Marjorie. For more information,visit here.

May 4
GiveNOLA Day 2021. For more information,visit here.

Archbishop Hannan Community Appeal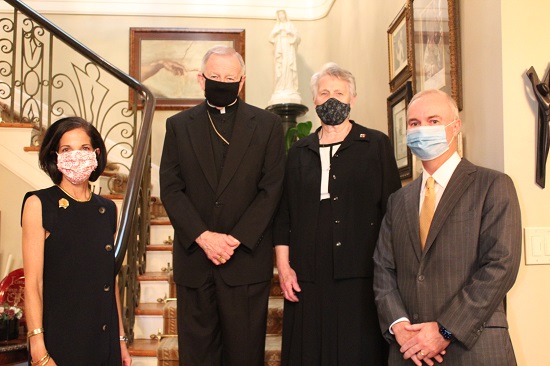 CCANO Hosts Virtual AHCA Reception:
On Monday, March 22, 2021, Catholic Charities Archdiocese of New Orleans celebrated a successful 2020 Archbishop Hannan Community Appeals (AHCA) campaign with a virtual mass said by Archbishop Gregory Aymond.
The AHCA, formerly known as the Archbishop's Community Appeal, is an annual, volunteer-driven fundraising campaign that supports the work of CCANO. This year, the Archbishop Hannan Community Appeal was led by 2020 AHCA Chairs Helen and Tim Young.
CCANO President and CEO Sister Marjorie Hebert said, "Thank you to all of the volunteers and donors who selflessly gave their time and resources to allow our organization to put its faith in action. The $1.8 million in capital raised through the AHCA campaign will allow Catholic Charities to continue to respond swiftly, effectively and compassionately in times of crisis and disaster."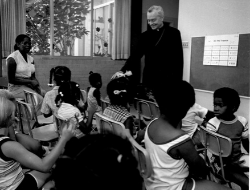 AHCA Campaign:
Gifts to the Archbishop Hannan Community Appeal (AHCA) raise crucial unrestricted funds that allow Catholic Charities to respond swiftly, effectively and compassionately in times of crisis or disaster.
Your donation means supporting a local charity that best understands local needs. We serve the 8 civil parishes that make up the Archdiocese of New Orleans: Orleans, Jefferson, St. Tammany, St. Bernard, Plaquemines, St. Charles, St. John, and Washington parishes.
THANK YOU to everyone who has made a gift to our 2020 Archbishop Hannan Community Appeal (AHCA) Campaign! Gifts to the AHCA raise crucial unrestricted funds which support ALL Catholic Charities programs.
Help us in providing unrestricted funds that allow us to help our neighbors in need!

VOLUNTEER OPPORTUNITIES: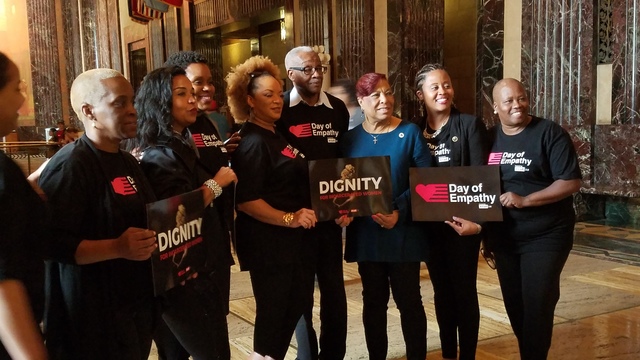 CORNERSTONE:
Catholic Charities' Cornerstone Program is looking for mentor volunteers (especially male mentors).
If you're interested in being a mentor or for more information, contact Kristina Gibson.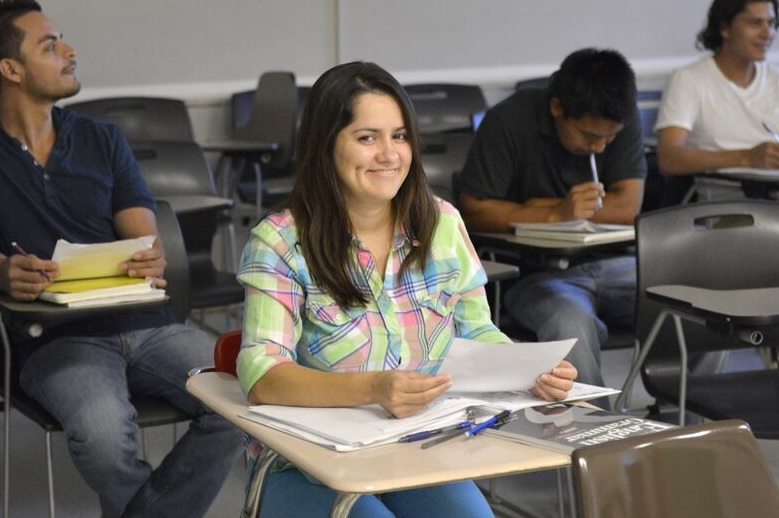 ESL and FAMILY LITERACY:
Trainings to volunteer for ESL (English as a Second Language) and Family Literacy will be held virtually in February.

All volunteers must attend the Immigration and Refugee (IRS) training first.


ESL - April 5 at 5pm

IRS - April 13 at 6pm


Family Literacy - April 15 at 6pm



ESL - April 19 at 6pm

IRS - April 26 at 6pm
Family Literacy - April 29 at 6pm

To sign up for ESL and Family Literacy trainings, contact Sami Barefield.


Volunteer by emailing Shannon Murphy and for more information,visit here.
GiveNOLA DAY

GiveNOLA Day 2021 will take place on Tuesday, May 4, 2021.

Early giving will open on April 20, 2021 - May 3, 2021 at 11:59PM.

For more information and to donate, visit here.

Women's History Month and CCANO Board Leadership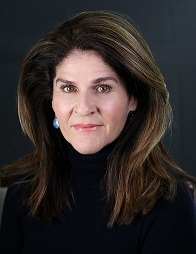 Catholic Charities' Board of Directors includes many woman leaders in the community. This Woman's History Month, we would like to highlight one of the nine amazing women on our Board.


Board member Teresa Lawrence shared her journey as we highlight strong women this month.


Teresa Lawrence, President and Owner at Delta Personnel, first came to the United States from Cuba on February 7, 1973. When she arrived to Miami and received clothing and food from a group of volunteers from Catholic Charities. When they left Miami, they landed in New Orleans.

Teresa says, "Catholic Charities has touched so many people and provided positive change when times seem the darkest, and in the most unexpected ways – like magic."

NEW PROGRAM UPDATES: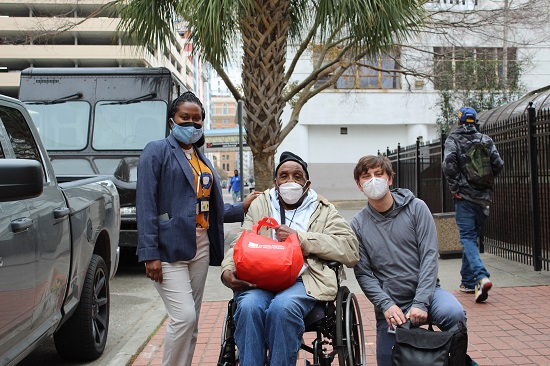 Health Guardians Helps Client Stay Healthy During COVID-19
Health Guardians has been working with Alphonso Evans, endearingly known by those around him as "Pops," since he came to the Low-Barrier Shelter over a year ago. Health Guardians staff has been working with him throughout his stay there to make sure he keeps up with all of his medical needs. This has been especially crucial throughout the pandemic, as health care has never been more complicated or necessary.

Before COVID took over the world, Health Guardians' Patient Navigator ensured Pops made it to all his appointments, such as scheduling a Medicaid transport for his monthly primary care visits.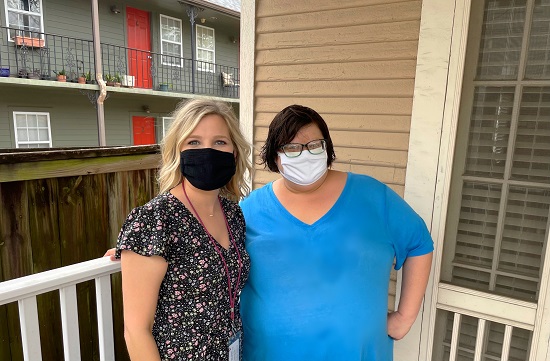 Ciara Independent House's Longest Resident
Originally founded in 1893, the Ciara House program provides the chronically homeless and mentally ill with safe, stable housing.

The Ciara Independent Living program provides stable, safe and stigma-free housing to the chronically homeless and mentally ill, giving them a sense of community and a path to self-sufficiency. Residents pay a modest rent, provide their own meals, and are able to live a relatively independent life.

One of Ciara Houses' longest clients, Melissa, has been with Ciara since 2013. Prior to moving to Ciara, Melissa was living in Alexandria with her elderly mother. In Alexandria, she only had access to a few doctors and the resources that she needed. A local priest suggested that she move to New Orleans for Ciara House and the resources she needed.


DONATE TO AHCA

Donate to Archbishop Hannan Community Appeal (AHCA) and help Catholic Charities meet the needs of the community.