November 2022 E-News
Dear Friend,
"Joy is the simplest form of gratitude." Karl Barth

"Gratitude is the inward feeling of kindness received.

Thankfulness is the natural impulse to express that feeling!

Thanksgiving is the following of that impulse." Henry Van Dyke


During the giving season we are grateful for each of you who have helped by donating to our Thanksgiving baskets. In this newsletter you will learn about our adopt-a-family program and if you are interested in adopting a family for Christmas please go to: www. ccano.org/holiday for a link to choose your special family.
Please consider donating to Catholic Charities Archdiocese of New Orleans on #iGiveCatholic Tuesday, November 29th, 2022. This donation goes directly to our AHCA campaign that is currently underway for the 2022-2023 fiscal year.
Happy Thanksgiving!!




Sr. Marjorie Hebert, MSC
President and CEO


Domestic Violence Personalized Safety Plan
Program director and attorney, Allyson Tuttle,Esq., says one of the important pieces that a family experiencing domestic violence needs to work on is a safety plan. Preparing for possible issues and avoiding confrontation with an abuser is a step Project SAVE encourages their clients to take.

The National Domestic Violence Hotline website has a link with a form that clients can fill in to put their safety plan on paper. To find this site and gain access to the many resources available go to:https://www.thehotline.org.

Project SAVE is "Stopping Abuse through Victim Empowerment". Our attorneys help clients navigate the court process by providing free legal services to immediately protect the client and any minors in the family from an abuser. This is done with temporary restraining and protective orders, temporary child support and custody and temporary use of property, specifically access to the home and vehicle.

"Primarily we receive referrals from the Orleans court advocates and other agencies," states Allyson. There are no income requirements to qualify for this assistance. The goal is to get the individual or family into a safe living situation and move them from crisis to stability.

"I just have peace now." This is a quote from a client that our attorneys were able to assist on the road to safety. "It's enormously gratifying to see the light coming back in our client's eyes." Allyson says when asked about her hopes for this program. "I want our clients to feel safe and have hope for a happy future."

For more information on Project SAVE go to: www.ccano.org/domestic-violence-services.

Adoption Month is cause for celebration!
Courtney and Michael share their story about adopting Graham

Since Michael and I met we both talked about wanting a family. Soon after we were married, we found out that we would not be able to naturally conceive a child. For a short time, we felt our dreams of having a family were shattered. We soon realized we still wanted to extend our love to include a child and we didn't want to give up on our dreams. After researching and considering all options, it didn't take us long to decide that adoption was the best choice for us.

We have a friend whose mom placed a baby for adoption many years ago through Catholic Charities. Right before we started the process, they were reunited after over 40 years. Hearing their story touched our hearts and led us to contact Catholic Charities.

We started the process mid-2019. We always heard that the waiting would be the longest and hardest part of the process. Well, 2021 everything happened! We were in the middle of a pandemic; Hurricane Ida was on our doorstep, and we were finally chosen by an expectant mother considering adoption! We were thrilled! After evacuating to Texas, we were anxious about the anticipated delivery of Graham. Graham was born in Vicksburg, MS. We received pictures and were ready to meet our son.

The day we met Graham was surreal. Our dream of having a family had finally come true. We had no idea just 24 hours later everything would change. Graham's birth mom had changed her mind and decided to parent.

The weeks passed. Our power was restored and little by little so was our faith. We found comfort in thinking how blessed we were to have had one amazing night as parents.

Fast forward 2 months later, we get a call, there's a baby ready for immediate placement but not another baby! It's Graham! We were reunited and together we finally headed home, all as "strong" as ever. Today we can't imagine life without Graham. Although the journey wasn't always easy it was so worth it.

For more information on CCANO's Adoption Services go to:adoptnola.com
Halloween Happenings at PACE and HeadStart Centers
#iGiveCatholic is Tuesday, November 29th,2022!

Join us beginning November 14th to give back and give Catholic!

PROGRAM SPOTLIGHT: Cornerstone Builders in the News

Stephanie Mills, Cornerstone Builders Program Director, was interviewed by several media outlets regarding our part in the Governor Edwards Round Table celebrating the five-year anniversary of Criminal Justice Reform and Reinvestment. You can view two of these interviews on the CCANO website at: www.ccano.org/press
The round table discussion was held at the Corpus Christi Community Center in New Orleans. Governor John Bel Edwards hosted this event which included Catholic Charities Cornerstone Builders employees, Untied Way of Southeast Louisiana, several other organizations that work with our program and formerly incarcerated persons that are participating in the programs. Cornerstone Builders is one of the recipients of the Justice Reinvestment grant monies which allows our program to provide assistance with transitional housing and food, transportation to job interviews and other appointments, workforce training, medical and mental health visits and other services focused on reducing recidivism rates.
97% of participants in the Cornerstone Builders program have successfully completed our program. This means they have not repeated actions that would result in returning to prison.
VOLUNTEERS NEEDED FOR THE HOLIDAYS!

With the holidays upon us, our volunteer department is as busy as the elves in the North Pole! Preparing Thanksgiving baskets and Christmas gifts for so many of our programs is a joyous challenge each year. If you are interested in helping us by volunteering your time, please click here.




To find out more about what CCANO is doing this holiday season click on the link below to check out our adopt-a-family program. If you need more information you may email Cindy Self, our Volunteer Director at cself@ccano.org.





Food for Seniors is working to help our Seniors

Renee Davenport, our Food for Seniors Director, recently held a contest where seniors who consistently picked up their monthly box of food three months in a row were entered into a drawing to recieve a $250 gift card. Each main warehouse location entered into individual groups and 4 grand prize winners of the $250 gift card were awarded. Along with this first prize, a second prize of $100 gift card and three third prizes of $50 gift cards were awarded.

Food insecurity is not having enough calories and/or nutritional food options. Poor nutritution is a leading cause of illness in the United States. Unfortunately, Louisiana ranks second worst in the courntry for the number of seniors at risk of facing food insecurity. Heart failure, depression and asthma are some of the risks that are likely to be experienced by those without access to food security.

If you are somone you know might qualify for a monthly box of USDA supplemental food, sign up at www.ccano.org/food-for-seniors.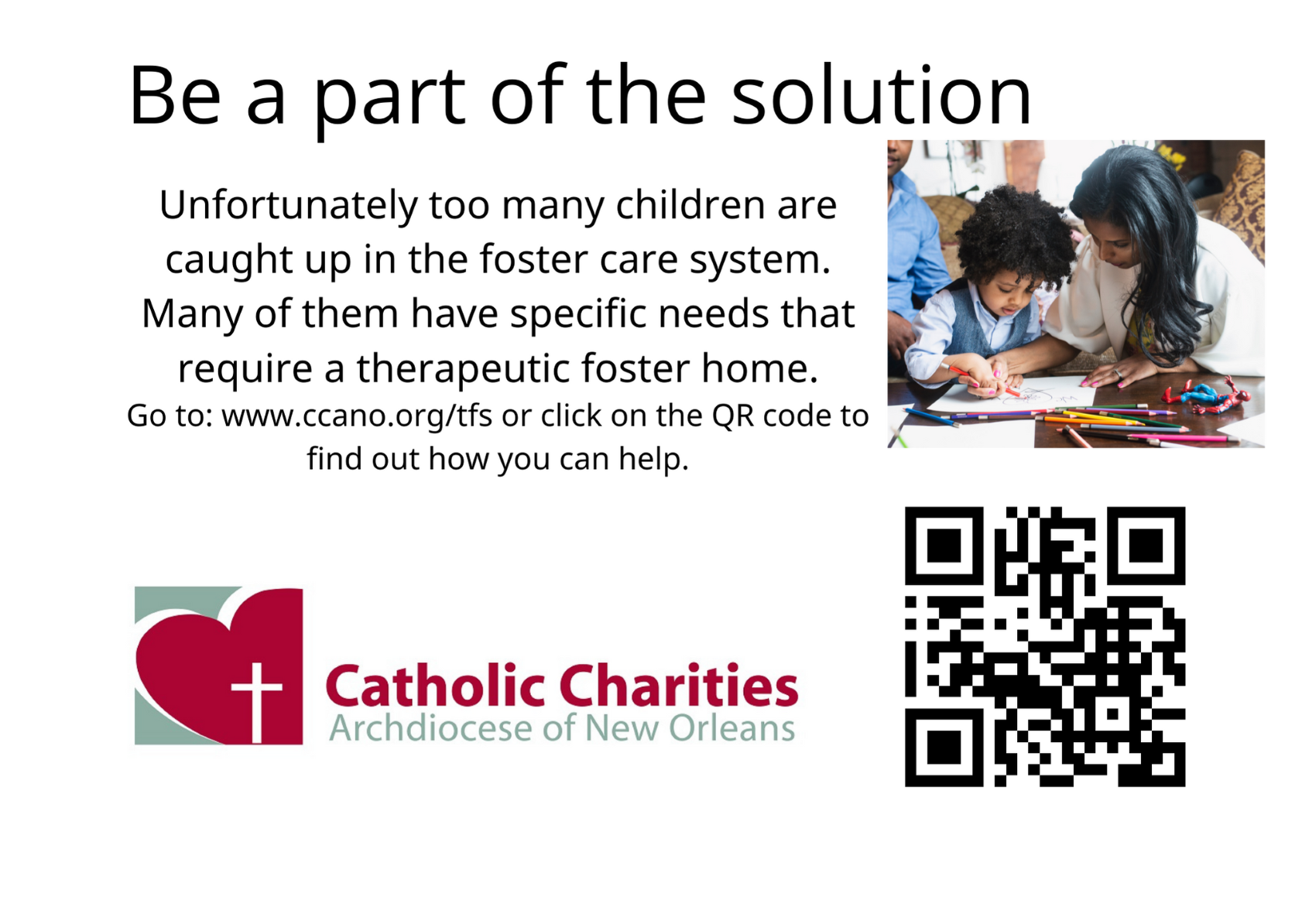 Donations to the AHCA raise crucial unrestricted funds that allow Catholic Charities to respond swiftly, effectively and compassionately in times of crisis or disaster. Our 2022 goal is $1.75 million, and Vaughn and Doug Downing are this year's chair couple. To find out more about our programs go to: https://www.ccano.org/program-directory/

To make your AHCA gift today, please click the button below.