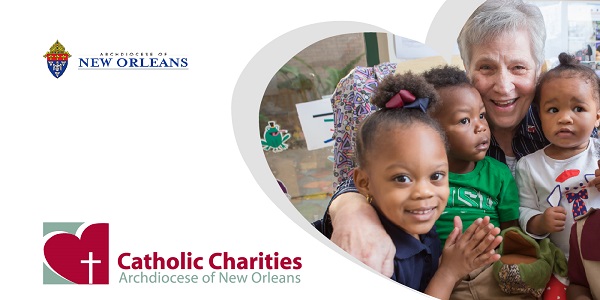 ---
High School Students Wrap Up Summer by
'SERVE-ING' Food for Seniors & PACE
Local high school students once again gathered this summer to participate in SERVE (Students Engaging in Reflective Volunteer Services) to earn service hours during two weeks in June and July.
In June, they visited the Food for Seniors warehouse in Harvey, where they packed boxes of food and in July, they spent a week at PACE GNO services (Program of All-Inclusive Care for the Elderly in the Greater New Orleans area). At PACE's Bywater location, they socialized with the elderly participants, playing games, crafting, and joining them in their daily Tai chi exercises. This year's group of SERVE students were from Archbishop Shaw, Archbishop Rummel, Cabrini, Brother Martin, and St. Mary's Dominican.
Since 2009, SERVE has worked with over 950 high school students, leveraging more than 33,400 volunteer hours in the community to impact the lives of others.
Click here for volunteer opportunities for people of all ages...
---
Refugee Services Program Director Included in
Gambit's '40 Under 40' Issue
Janet Lopez, Program Director for Refugee Services, was named to Gambit's annual "40 Under 40" list. Gambit shines an annual spotlight on locals eagerly working to make their community a better place.
Lopez, who became director this year, leads her staff to help newly arrived refugees and other immigrants with humanitarian legal status. Services include case management, employment assistance, cultural orientation, mentorship and more.
---
Support Pregnancy Services by Shopping
Online Baby Registries
Pregnancy Services distributes more than 12,000 diapers (and other baby essentials) every month to mothers in need. With online registries through Amazon, Walmart and Target, it's now easier than ever for anybody to support the 800+ families who walk through the Pregnancy Services door each year.

If you would like to help, please click any of the registry links above. Items are also accepted at the Pregnancy Services office, located at 921 Aris Avenue in Metairie.

Questions? Call (504) 832-1503.
In the News:
Destrehan woman finally back home
| The St. Charles Herald Guide recently profiled Destrehan resident Melinda Guidry, who, with the assistance of Catholic Charities' Spirit of Hope disaster response program, was able to finally return home this year. | |
| --- | --- |
Social Media Spotlight

Ciara Independent residents celebrate 4th of July during their monthly community meal

The Ciara Independent Living program provides stable, safe, and stigma-free housing to the chronically homeless and mentally ill by giving them a sense of community and a path to self-sufficiency. For more information, call
(504) 524-8394 or visit here.
---
Inspiring Youth Groups Make a Difference at Catholic Charities in July
Thank you to everyone from ECYD Louisiana, Regnum Christi's youth organization, and the young men and women from the Salesian Youth Ministry for giving their time last month to volunteer at Catholic Charities.
The Regnum Christi group worked at the Food for Seniors warehouse packing boxes of food. The Salesians volunteered for several of our programs, including Food for Seniors, Pregnancy Services and PACE, during their 2023 Salesian Gospel Roads overnight service retreat.
It is heartwarming to see people from all backgrounds work together to make a difference in the community.
---