Raising Canes supports Head Start
Friday, February 20, 2015
By: Catholic Charities
This year, our Head Start program has been blessed by the support of Raising Canes. Recently, team members from Raising Canes stopped by to catch the Head Start fun in action at our annual Head Start Mardi Gras parade.
Known throughout Louisiana for their delicious chicken strips, Raising Cane's makes community involvement a priority and an important part of their culture. Education is a foundation for communities and we are thankful for their commitment to early childhood education and support for parents through our Head Start program!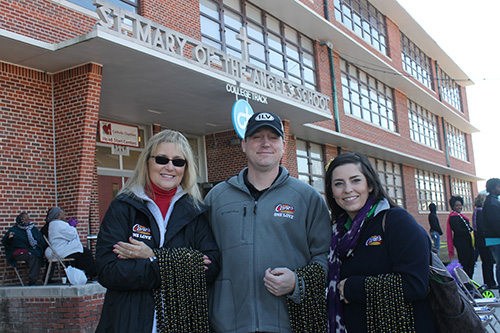 Raising Canes team members Lynn Young, Tommy Papale and Erin Knight Credo joined in the Mardi Gras fun, handing out Raising Canes beads in the Head Start parade.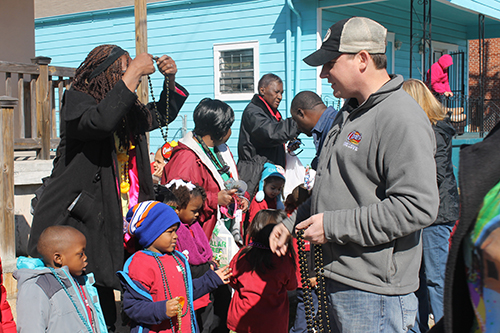 Tommy Papale of Raising Canes passing out special Raising Canes Mardi Gras beads at the Head Start Mardi Gras parade.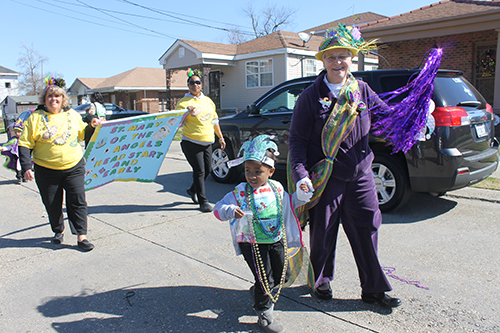 Sr. Marjorie Hebert was the Grand Marshall of the Head Start Mardi Gras Parade!
The Head Start parade was once again a highlight of the carnival season for the Catholic Charities Family. Coordinated by St. Mary of the Angels Head Start, students, parents and staff from St. Mary's and St. John Head Start paraded around the grounds of St. Mary of the Angels in the 9th Ward to the delight of our Head Start students, friends and supporters of Catholic Charities.